So, there was this time where so much shit happened in a few month span that I couldn't spare the hour to write, or put forth the brain power required to explain what was going on in my life.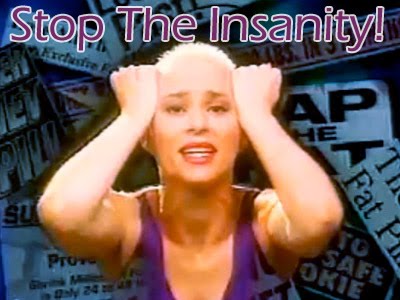 Everyday.
My boss quit.
By quit, I mean: she resigned effective December 31st in order to go to Mortuary school. Is it weird to be proud of your boss? She's a good lady and she is so deserving of happiness. I hope this is a good path for her. So now, on top of being
the aforementioned Safety Inspector
, I am officially going to be the Client Services MANAGER starting in January. Uh, you guys, I will be managing other people. I will be other people's boss. I will be a boss-lady. Considering I've never done this before, I am incredibly nervous and hoping that it will work out smoothly. But mostly, I am terrified that I am going to jack this shit to hell. I've been kind of working on training while my boss kind of informs me that we're all screwed when she leaves (which is kind of true).
So, I've been busting my rump at work and crashing the moment that I get home, thus neglecting this blog. When I'm not crashed, Rob is usually in control of the laptop. Oh, yeah, and my computer died. As in, the fan stopped working so it will only turn on for about 5 minutes before overheating and shorting out. I've been working on Rob's laptop when he's not on it. Fun fact: Rob is really attached to his computer. For work, for gaming, for everything. Yes, we are still together. No, we are not engaged.
What else is there?
Oh, I recently tried to start doing more Zumba:CORE to get myself in shape for the Summer. I don't think that I'll be bikini-ready by June; however, it's really fun to get into it. There are even a couple of options for ballet, burlesque, and belly dance! Those are the three types of dance that I've been looking to get into. Admittedly, belly dance is stupid-difficult and causes me to sweat until I feel like everything is gross-damp. I don't care if it's an over-share. Although, does anybody else get that thing when they are working out where their thighs smack off each other, and quite loudly? Every time. I almost want to be super skinny so that shit gets cut out because it's getting really old really fast.
Me doing Zumba.
Lastly, I'm taking suggestions on what places may be good to vacation to this coming year. I need to get away, possibly on a solo trip.
I need a fucking change of scene/pace.
I leave you with this song, which reminds me of a late friend:
still there's not a show on my back
holes or a friendly intervention
I'm just a little bit heiress, a little bit Irish
a little bit tower of Pisa whenever I see you
so please be kind if I'm a mess
"cigarettes and chocolate milk" by Rufus Wainwright